The Friends of Basil King will present "Basil's Arc – The Paintings and Poetics of Basil King" at Anthology Film Archives,  32 Second Avenue at Second Street, New York City, on Saturday, September 22, 2012, from 12 noon to 6 pm.
Sponsored by Lunar Chandelier Press — this free event includes conversations about King's visual art illustrated by slides, with critics and poets including Edna Augusta, William Benton, Laurie Duggan, Tom Fink, Mitch Highfill, Vincent Katz, Burt Kimmelman, Harry Lewis, Kimberly Lyons, Tom Patterson, George Quasha, Corinne Robbins, Barry Schwabsky, Lilly Wei, and others….
Along with these discussions there will be performances of original music inspired by King images ("The Green Man"  by Daniel Staniforth) and King text ("I Have a Little Song" from Mirage, by Nicole Peyrafitte).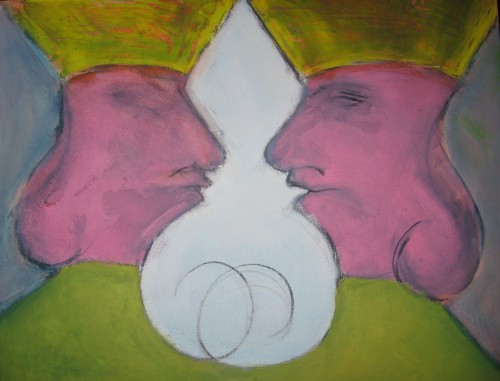 Brief selections from King's texts will be read by invited poets.
The highlight of the event will be the debut screening of a 22-minute film portrait, Basil King: MIRAGE, commissioned by The Friends of Basil King, and created by Nicole Peyrafitte and Miles Joris-Peyrafitte.
Save the date! You are invited!