"Disparate Beasts: Basil King's Beastiary, part two"
 May be my favorite Basil King book so far. All the disparate strands weave in and out, figures like Cranach and Kline and Nijinsky hiding and reappearing…. A little gossip, some humor and poignancy– and I learned a lot.  Calling Frederick Law Olmsted an Impressionist and comparing him to Monet is brilliant. — Michael Seth Stewart
The book picks up themes begun in 77 Beasts/Basil King's Beastiary.  Once again the fabulous beasts are artists both past and present channeled through fellow artist Basil King's empathetic imagination. He writes: "At age 50 the poem and the painting became one continuous scroll that like Asian and Semitic scrolls tell stories as they instruct my Torah is endless."
Chapbooks
These Chapbooks are out of print. To locate copies, please consult sites that specialize in rare literary publications such as Biblio.com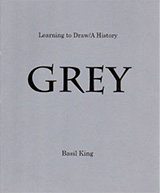 Grey
This is the latest chapter in Basil King's Learning to Draw/A History epic, just in time for the new year "Every artist finds his own gray" writes Basil King, but for Baz, the British kicks in:  GREY.
"John Wieners faced the page and told the messenger I will not atone. I will not repent for loving death's disapproval."  Others in this poem include Jasper Johns, Rauchenberg, Twombly, O'Hara, Martha King, and their daughters, Mallory and Hetty King, when very young. –Mark Lamoreaux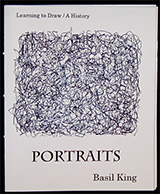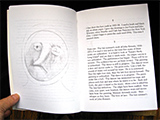 Portraits
Before I began reading grown-up books, most of what I knew about literature came from a card game called "Game of Authors."  In this installment of his epic "Learning to Draw / A History," Basil King likewise stacks his own deck of historical personages.  Like King's exquisite line drawings that accompany the poems, the Portraits offer intimate yet enigmatic limns of such luminaries as Charles Darwin, Joan Mitchell and Amiri Baraka and follow a thread through the labyrinth of our intellectual history looking for the bull-headed genius of vision — Mark Lamoreaux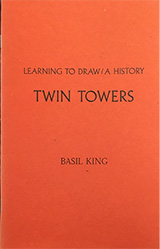 Twin Towers
"The surreal knocks."  In another segment of Learning to Draw/A history, Basil King takes on the enormous subject of the attack on New York's Twin Towers by ranging from personal memories of his childhood in London during World War Two, his experiences in Brooklyn on the day that event unfolded, and projections about how other people responded, from a fireman's widow to Casper David Friedrich, to Mark Rothko, to contemporary Orthodox Jews and Muslims.  "What you see is not always what you feel," Basil writes.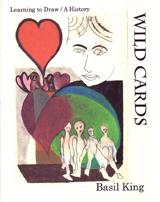 Wild Cards
In "Wild Cards," Basil King gives us art and history from street level.  Monet, Manet, Blake and others are face-cards in his full hand & hands.  King  builds a Japanese Bridge between word and image in this section of his epic Learning to Draw/A History.  Accompanying the text are four full-color plates of King's own paintings from the "Blackjack" series.  You'll lose your shirt. — Mark Lamoureaux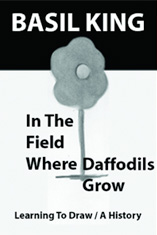 In The Field Where Daffodils Grow
This is another installment in a body of work that Basil King has established, mixing poetry and prose, personal memoir and aesthetic rumination. King, who started and remains a painter, has gained a loyal following for his writing and public appearances. This chapbook begins with ah mediation on Marsden Hartley and continues, gaining momentum, as the writer considers in a personal way the relationships of Pound, H.D., and Williams passing through Giotto, Rembrandt, and Nijinsky to Virginia Woolfe and her sister Vanessa Bell.  Most poetically, he presents a portrait of Emily Carr, a painter and kindred spirit.  –Vincent Katz