Included here are several selections of Basil King reading his own writing. Below is a 22-minute short film Mirage based on Basil King's book of the same title produced by Miles Joris-Peyrafitte and Nicole Peyrafitte.
The Brooklyn Rail presents:
THE-NEW-SOCIAL-ENVIRONMENT#757
March 1, 2023
6 Rue de Fürstemberg: A Rail Reading curated by Yuko Otomo & Basil King
Basil King reads from In Delacroix's Garden
IN DELACROIX'S GARDEN, Spuyten Duyvil, 2022
Produced by Don Yorty, February 2023
Basil King reads from There Are No Ghosts, There Are Portraits
Co-published by Pinsapo Press and Lost & Found CUNY Poetics Document Initiative, September 2022
Filmed by Don Yorty: Friday, September 23, 2022, at FiveMyles Gallery, Brooklyn
A Virtual Event: Studio Visit & Reading – Basil King and Martha King – January 2021. Produced by Local Knowledge.
Mirage Trailer – Produced by Miles Joris-Peyrafitte and Nicole Peyrafitte
---
WATCH THE FULL LENGTH FILM @ the Poetry Project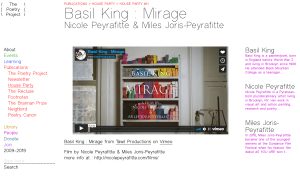 [expand title="Showings of Mirage:"]
Anthology Film Archives, NYC – premiere with a day-long program "The Paintings and Poetics of Basil King" produced by the Friends of Basil King, September 22, 2012
Beverly Film Festival, Beverly, MA – November 9, 2012
Three showings in England as part of the program
"Black Mountain Trace" with readings and talks by Martha and Basil King – 2013
University of Kent, Canterbury
University of Sussex, Brighton
Brookes Oxford, Oxford
The Veg Box, Canterbury, 2013
Walker Art Museum, Minneapolis, MN, 2015
Black Mountain College Museum and Arts Center, Asheville NC, 2016
House Party – from the Poetry Project at St. Marks, New York – 2021 –a digital program instituted during the Covid emergency
[/expand]
Basil King's Readings Archive
Basil King Reads Victorian Times and After