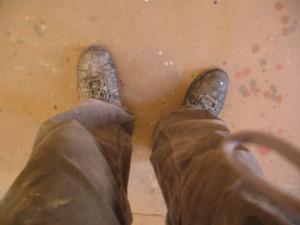 Basil's diptych "A Predella for the Green Man"  (mixed media on two canvas panels, together measuring 42 inches high by 12 feet long) is complete. Process and progress from July 2012 to January 2013 was documented in photos by Sanjay Agnihotri and Martha King (with the more amateur shots by MK). See the slide show here. See also the blog page, above.
"Looking for the Green Man"  (mixed media on four canvas panels, 8 feet wide together with the two tallest panels each 74" high) was started in 2009.  We distributed a photo of this work as our holiday greeting in December 2009 (see thumbnail) but early in 2010 Baz hid the painting behind black cloth.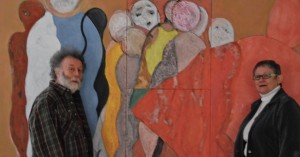 It was off. It was not done. He waited.  In January 2013 when "A Predella" was complete, he was ready to begin again.
The two paintings are now on view in his studio.