Eva Hesse: 1936–1970  Her life time.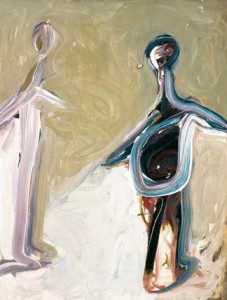 The paintings currently on view at Brooklyn Museum – from now until January 6 – were done in just part of one year. They are the last paintings she ever made.  She then went to Germany and entered sculpture, clearly empowered, enbolded, interested, propelled in some major way by the discovery trip she had hurtled through in making these works.
All of them swing from the abstract to the figure, from the figure to the abstract;  all are autobiographical, political, confessional, confrontational.  All address the questions we also asked when young and may still be asking.  Why am I here? Why is this important? How can I move?
It's sort of boring to note "her debt to deKooning" – how could she not in 1960 and what difference does it make other than speaking to the fact that she was alive in that world.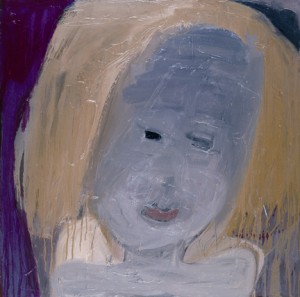 A few of these may have been seen before.  Most have never been. There's a whole long gallery of them at the Brooklyn Museum — and a catalog too.
There was one show in 2008 at a Chelsea gallery, the Andrea Rosen, which showed deKooning, Luio Fontana and Eva Hesse paintings together.  The press materials don't name a curator, so the exhibit may have been assembled by Rosen herself.  Helen Molesworth contributed an essay, "Don't Look Back: Eva Hesse's Early Work" maintaining "her concerns remained constant" following her aesthetic break (in or out) to sculptural works. (http://www.andrearosengallery.com/exhibitions/2008_10_willem-de-kooninglucio-fontanaeva-hesse/?view=pressrelease )
I'm not so sure.  The plunge back into painful Europe and the raw industrial environment she landed in as studio space may have worked its own demand: Use this or die. She was ever an artist concerned with survival. And of course by hideous irony, the sculptural materials she then used, all those liquid plastics, are likely to have sparked the brain cancer that killed her.
Is it hard-hearted of me?  That's not what's interesting about her work! Early death. Irony.  No – it's the intensity of her belief, her willingness to go forward, the delight even the most violent of her images contain which she offers so generously to us!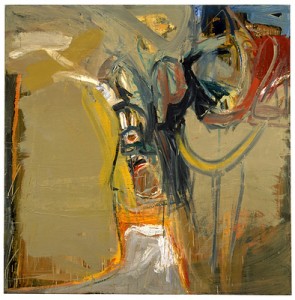 It's a "don't miss" in Brooklyn this fall!