The film in progress has been commissioned by The Friends of Basil King – for an event celebrating Basil's Arc: the Paintings and Poetics of Basil King – and more.
Well, a film is a mirage; we know that.  The upsidedowness of the preparations is fascinating – because film is the filmmakers medium. We know that too.  Nicole Peyrafitte and Miles Joris Peyrafitte initiated all the action.  Baz waited and waits. Me too.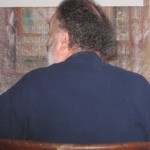 He and I watched the technical part like visitors from another planet.  The  filmmakers and their camera operator (Eddie Lebron) were very excited about the RED camera.  Baz was much more excited about what the bank of artificial lights did for his paintings.  In the fake daylight details popped and delicate  layerings shimmered.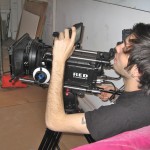 Nicole had another smaller camera, and also recorded ambient sound.  The crew had a wonderful go-for script girl and art handler in a young painter named Jane Corregan, seen on the right with the slate. Well it was paper…there were some exceptions to total professionalism. The prep work took us days, and the actual filming was all completed over one long weekend. And now the mirage continues. I'm told a trailer is almost ready.  I'll post it here and on YouTube I suppose. And the inevitable plea for contributions is to come. But for now, mirage continues….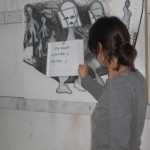 Not everyone paint. Not. No. Not
         everyone paints. Not everyone.
         No. Not. No paint. No dirty hands.
         No brushes. No. No. Not everyone
         wants sex all the time. No. Not
         everyone.
                                    From mirage, a poem
                                    in 22 sections, last lines, page 149  -Basil King , 2003