Kim Lyons has organized a small group of poets as "Friends of Basil King" to do something to focus some attention on King's extraordinary output of visual art. They in turn have gathered some 20 others willing to serve as advisors.
An event – Their plan is an event, "Basil's Arc – The Paintings and Poetics of Basil King," which will present readings, original music, panel discussions, and possibly papers on King's art, along with a film, designed to show the paintings.  SAVE the date!  September 22, 2012.  New York City.  Venue TBD.
A film – Nicole Peyrafitte and Miles Joris-Peyrafitte have been commissioned to create the film. They came up with the idea of using the text of King's book  Mirage: a poem in 22 sections as the spine, or narrative thread, for a film whose images will almost exclusively be his paintings and graphics, throughout.
The source – Mirage is King's most explicitly autobiographical work but the selected selections will bracket some big themes in his work rather than trying to present a life story.   As it's developing, the film will probably cover three of them:
Cards, both structurally and iconographically – This is a graphic, colored pencil on paper, from "Wild Cards."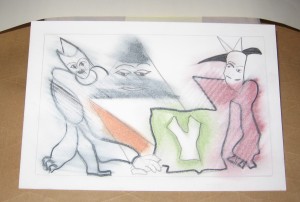 Brooklyn and domestic life. Here's a large painting from Basil's "My Brooklyn" series:
War and its aftermath — This is a work on paper from his "Looking for the Green Man" series.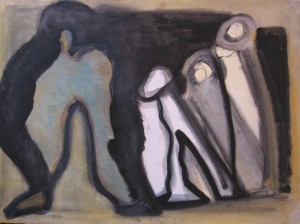 We are currently struggling to organize works to be filmed in as efficient a way as possible so this can be accomplished in just two days later this month.  Anyone who has visited Basil King's studio on the third and fourth floors of our narrow house in Brooklyn will appreciate how this involves dancing on the head of a pin.
We've also dug though old scrap books for photos and documents to find appropriate accompaniments.  To much merriment!  And some real wrenches.I'll report more on this as it develops.