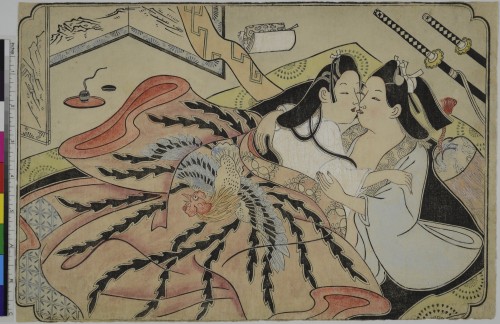 "Shhh  Shunga: Sex and pleasure in Japanese Art"  is on view at the British Museum, London, until Jauary 5, 2014.
Shunga actually means "spring pictures."  Many pictures from the floating world, another lovely meaning  we all recognize…floating.
According to the catalog, shunga was never censored formally but was suppressed from 1870 on as Japan sought to "modernize" which was apparently taken to mean conform to western morality. Only in the last twenty years has it been okay once again to exhibit and publish.

Western porno looks so limited in comparison! Not to mention so often aesthetically unpleasant.
These works range freely from political criticism, to  literature, theatre, to red-light district enhancements, to a need for newly married men and women to realize what can be explored.  There's  humor. Parody. Jokes (as in the art at the top…where there is no cock except on the bedspread).  A good deal of political comment, for which context is provided. Sensuality supreme.  And titillation of course, who could look at some of these images without a tingle?  But never isolated titillation. These are loving images, meant to stir joy. Created in a culture without morally enforced divisions between "art" and "pornography." A wonderfully releasing wow. This was clear to all the museum visitors. I saw no embarrassed or flustered faces and the show was crowded with a grand mix of generations, races, genders. We were enjoying ourselves, which meant spending time at very close range, for these are small scale works with many finely rendered details.
At that small scale, we were presented with ebullient exaggeration—we're looking at men with dongs the size of fireplugs, women with cunts as big as dinner plates–not to mention lascivious octopuses, mischievous enablers, beautifully rendered bedding and bed clothing. I, for one, have never seen female genitalia represented with such enthusiastic sensitivity.
I usually quail at exhibitions with lengthy captions mounted alongside …they can seem nearly as brutal as those pre-recorded lectures that cue viewers to click for an art history lesson at pre-selected sites. But because the information was so germane to the context, because the context was both alluring and unfamiliar, it was seamless to read the texts while looking at the art.
By the way, the British Museum acquired its first shunga prints in 1865. Today the George Witt Collection is considered one of the best anywhere outside Japan. I expect one could ask to see some examples after this show is no longer on