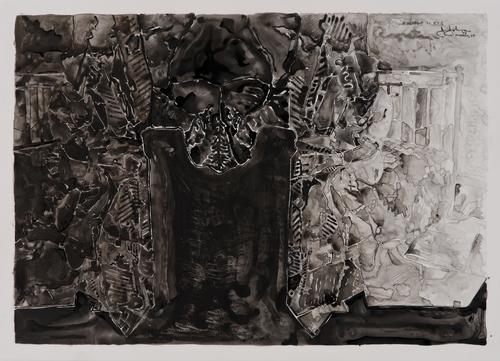 First, take your time.
A large painting hangs dead center in the first room of this exhibit.  Dimensions aren't given on the wall sign, but the press kit lists 67" x 96".  This painting is central and all the other works dance in variating attendance on it, playing off and playing with it. It's a stopper. Not just the deaths head in the upper middle, but as you look, the two women, the haunted magician, the grimacing masks, the wings, the eggs, the northern shivering lake — and these are what I saw in just a few minutes in just one visit, and just in the central middle top of the great "Regrets" 2013.
Take your time.  Johns paints what we don't see – exactly what Barry Schwabsky once said to Basil King about Basil's work.
When we arrived a serious young man was seated on the bench facing this painting, writing rapidly in a small notebook.
Johns has the authority to demand his viewers take the time.  The one-hit wowser, illuminating or titillating, is somewhere else at MOMA.  In here, grays in quietly manic variety, via quietly grey inks, water colors, pencils, chalks, charcoals, here color gets a quick laugh, but there is always more.  Blotches, scratches, hatching.  Delicate precision lines and wide swatches of splash. Paper. Plastic. Canvas.
Neckties • villages • aerial views of suburb landscapes • windows • rooftops • Swift changes of proportion • huge chairs and a bed • tiny dark boxes • glinting mirrors.
One needs time to unpack it like a really great poem. And Johns packs it in, going over and over ways to never repeat.
In some versions the visitors' faces are shielded; they sit opposite the man who sits with hands in front of his face. Sometimes these doubles disappear completely into the material, both always and never abstract.  Sometimes there is only the man on the bed.  Lucien Freud. Is he mocked by Francis Bacon? Is he competing with Jasper Johns? Is Jasper Johns outdoing him? Is this an art-world palindrome: paintings and etchings springing from the crumpled remains of a print of a 1964 photograph taken by British photographer John Deakin, and retrieved from Bacon's studio floor, then enshrined in its torn up form in a photograph that appeared in Christie's auction catalog?  This mangled print is on display here, meaning, I'm guessing, that Johns bought it from the auction, after all its travels.  Breaking, crumpling, dividing, varying.
How many ways can an artist mine a single image?   The answer is not here; the work goes on, Johns' work and ours. We will need to come back again and look again. Call and response – a change and a change again.  How many times can someone sign with an unchanging rubber stamp? Is it mocking or reaffirming? Or is it simply the joy of the stamp's calligraphy?
Someone once defined art as something that has to be looked at again and again, because it can deliver something else, something more, over time.  This is very opposite of propaganda or illustration, standing as they do exactly in the moment.
When we left, the serious young man was sitting opposite the ultimate painting, still writing rapidly in his small notebook.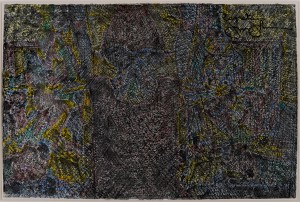 The exhibition is up until September 1.  There is time to visit again. As noted on the captions some of these works have been promised as gifts to the museum. So they are promised to be around again.