Good news: DISPATCHES FROM THE POETRY WARS  http://dispatchespoetrywars.com/ is up and healthy. (The site had a spate of glitches during a recent upgrade.)
I am even more pleased to report that a thoughtful article by Kimberly Ann Lyons on Basil King's visual art "Here is Another Somewhere" is in the Commentary section… http://dispatchespoetrywars.com/…/another-somewhere-visual…/
Also available is the complete text of Basil's complex meditation on the events of September 11, 2001: TWIN TOWERS. Visit the Dispatches section http://dispatchespoetrywars.com/dispatches/…/07/twin-towers/
Kim takes a look at Basil's development and the influences of his friends and mentors at Black Mountain College…focusing especially on a never-before discussed connection to Robert Duncan and his concept of art involving the weaving and the UNWEAVING of a figure…and the twist that permits emergence of mercurial genius.
Basil (Lyons says) "has a shared perception with (Duncan) when he writes that "We know we can endure because each one of us has become one of the other."
The article includes a few reproductions of Basil's visual art, to which I'll add one more, just finished this September.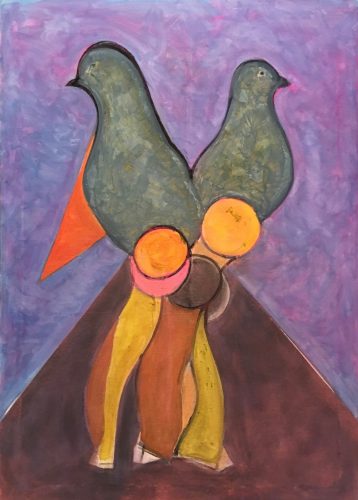 It's important for me to mention that this issue of DISPATCHES  is packed with thoughtful, funny, moving, angry, and exciting work. Thank you, editors Kent Johnson and Michael Boughn.