The other Martha King died more than a year ago. But because she was a skilled and frequently published translator and editor of writings by Italian women, she will continue to be the "other Martha King."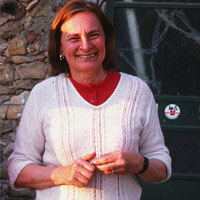 Information about her books and editorial work can be found  here.
A very touching tribute to her by her son Jim is on YouTube here:
She lived in Tuscany for almost three decades and is probably best known for her translations of Grazia Deledda, winner of the Nobel Prize for Literature in 1928. This translator's note gives a hint of her personality.
It seems paradoxical that Grazia Deledda could write such sexy novels, with characters driven by desire. She was born and raised in retro Sardinia, to become a faithful and devoted wife and mother. Short, plump, the antithesis of sexy, she wrote many volumes of short stories and novels with full-blooded themes, not to mention full-bodied. But subtly so. Her characters are very Sardinian-reticent in the expression of their desires that burn under the surface of the dialogue and action.
The Italians issued a postage stamp for Deledda.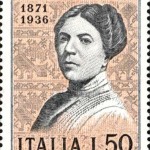 My connection with Martha King began in 1978. New Rivers Press was bringing out my first real book, a collection of poetry, Weather. I wrote her about our shared name and suggested she alter hers to distinguish us. Could she use an initial?  She wrote back declining. I wrote back claiming seniority: I'd noticed that she earned a PhD in the early 1960s and assumed she was younger than me. I had had the King name first, I said, giving my age and the date of my marriage. (I have the King name from Basil.) I didn't have any such claim. She was nine years older than me and had acquired her name though marriage in 1947.  Moreover, her mate had died just a few years before and she'd keep her name, thank you very much. Well, I did the same.
But I sent her a copy of Weather when the book was in hand and she wrote me back one more time.  She liked the poems very much and since she had not written them she promised to use her initial J. in the future.  Which she did and she didn't but we didn't write each other again.  Today we're frequently mixed together on the web and on sites like Goodreads. I don't care a bit.  We aren't and weren't the least bit alike but I've come to appreciate her integrity and valor.  RIP Martha J. King.