JOIN US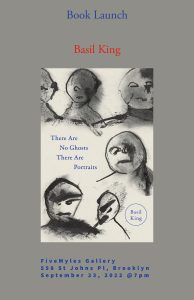 New Book Launch:
There Are No Ghosts There Are Portraits, Basil King September 2022
Co-published by Pinsapo Press and Lost & Found CUNY Poetics Document Initiative.
Friday, September 23, 2022 at 7PM
FiveMyles Gallery
558 St Johns Place, Brooklyn, NY 11238
DIRECTIONS
Take 2, 3, or 4 trains to Franklin Avenue. Walk two blocks against the traffic on Franklin. Walk ¾ block to 558 St. Johns Place. FiveMyles is within easy walking distance from the Brooklyn Museum.
To Purchase the book:
For more information: