Basil King's reading of "The White Tablecloth," recorded at SideWalk Café this past November, is now available. on PennSound.  Click here!
(Thank you, Zach Carduner at PennSound for working the magic needed to create an MP3 file from an unpromising original.)
Even better — print is also available. "The White Tablecloth" appears in The Spoken Word/The Painted Hand, from Marsh Hawk Press. 104 pages, $15.  Order from SPD, Amazon if you must, or any wonderful independent bookseller you patronize.
PennSound has more: 8 minutes of Basil's reading of "A Pigeon in Delacroix's Garden" at the James and Mary Laurie Booksellers of Minneapolis, April 10, 2015. Publication of this text is under discussion. Stay tuned.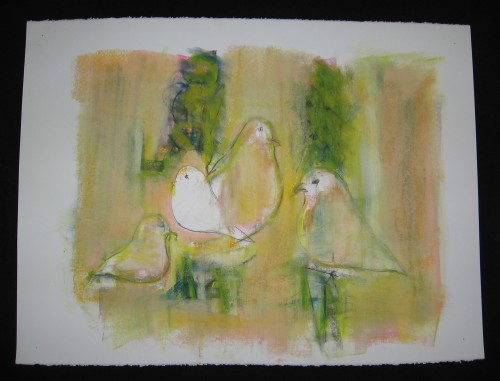 For more birds, visit King New333 (and choose ALBUMS. Five of them contain birds).