Andrew Levy and Andrej Blatnik were presented by Prose Pros at the Side Walk Café, December 6, 2012.
You can put Everything in –
Less is more  —
Charles Olson said something about space as the essential American condition…am I misquoting?  misremembering?  Certainly space is a foundational premise in Andrew Levy's prose work.  It is not collage! It is his essential understanding of and belief in S P A C E that allows him to range through satire, horror, tenderness, nostalgia, massive political anger, joy in small day events, the beautifully captured voices of those routinely unheard, the voices that din our ears relentlessly.  Put it all in. And do it seamlessly.   All, everything, goes into his work, carried together by nearly invisible changes, the changes of jazz, the shifts we accept unquestioningly when they are NOT language (or not language because the language is so abstract as to snap the links of meaning) – but rarely encountered when words retain meanings as Levy's do.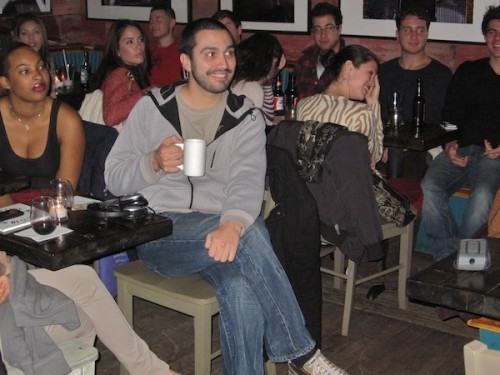 Space –  as a means to incorporate, to take account of, to manage and make of  the barrage we're living in and under…  No surprise at all that Andrew lost track of time as he read – and we did too, although time is a condition for the monthly readings Elinor Nauen and I host at Side Walk Cafe.  We are given an early slot, exactly 6:30 to 7:45 before the live bands, always on offer, start up.
The new novel (so he called it), that Andrew read from last Thursday  (I'd prefer to call it "prose work" as transcends the rote definition we all have of NOVEL) is still in progress and thus not yet available.  His recent Nothing is in Here from EOAGH is available for $17 from SPD.  Be rewarded. And expect to have your person personally engaged.   www.spdbooks.org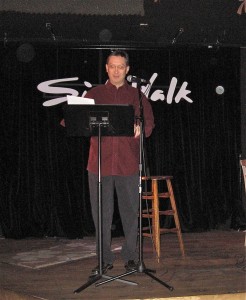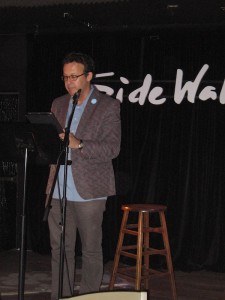 The second reader was our guest from Slovenia, Andrew Blatnik, master minimalist.  I don't say that lightly.  His fictions aren't short as a "demonstration" of just how short a word-thing can be. Kostelanetz has a series of one- and two-word novels as have several others: they are plays on a possibility. They can set off a chain of music but they are not actual stories.  Blatnik's are.  Stories. Huge stories with layered complications – about people and relationships we all too easily recognize. They are presented in brief straight-forward sentences, often simple no-frills declarations, and not too many of them. But selected and attached with precision. Not to give us his audience distance but straight and simple to go for the throat. They are devastating and hilarious. They are cruel and heart-breaking. They are clearly true and just as clearly tales from the interior.
Happily Dalkey Archive is aware of Slovenia and much more and Andrej's book can be ordered from  www.dalkeyarchive.com/  for $11.  (BTW,  poke around the Dalkey site if you are not aware of their Global Translation Initiative. )