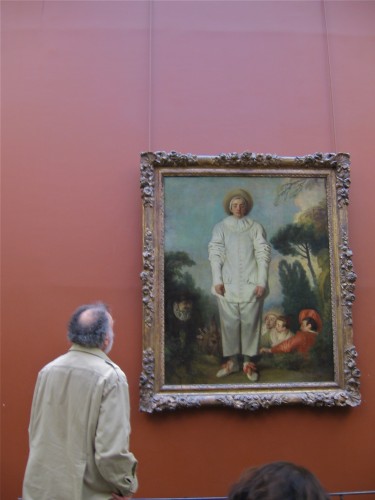 Basil has loved Watteau as long as he can remember — so in 20013 a trip to Paris meant a chance to see "Gilles"  in the Louvre. Two huge impediments: Who knew one needs to reserve tickets online weeks ahead of time. The lines, even in early November, were staggering. Second, Baz walks slowly these days and uses a cane for balance.  He can cover distances, but it takes time and energy. Happily his cane provided us easy entrance, as the French are extremely considerate of disability. But then we found the direct route to the painting in the Louvre's enormous hollow square was blocked by renovations. To see "Gilles" meant a tour  through French painting from  the 15h century on. On. And still further on. Not that we didn't see some thrilling works enroute.
Of course Basil is currently writing more about this painting, more about its androgyny, its mystery.
But here is an excerpt from what he wrote in 1997: 

Watteau painted "Gilles" surrounded by Lust, Intrigue, and Mockery.  Gilles stands with his hands by his sides. His feet are on the ground. He wears a satin coat with pockets and his satin pants are above his ankles. His shoes have satin bows and he wears a hat. He is, maybe, a young man. His eyes look slightly downward from his slightly elevated stance. He is conscious of being looked at. He is used to it, and he looks back. Tomorrow, maybe tomorrow, the head will not be as heavy as it is today. Maybe tomorrow his shoulders will raise his arms and the palms will cover his eyes and it will be dark and everything that is known will be forgotten. Gilles stands in satin, surrounded by Lust, Intrigue, and Mockery. The word comes already clothed. Like apples, the word is three-dimensional. Like apples, it has its abiding seed.
Do you ask how many angels dance on the head of a pin? Do you know what a secret is? Do you have an auger? Do you collect feathers? Have you ever made a pillow? Have you ever seen a face in a pillow?  Do you smile?  Do you make faces in the mirror? Do you narrate? Do you sing for your supper? Do you deviate? Do you say you understand things you don't? Do you?  Do you?  Do you eat good?
©Basil King
—from The Complete Miniatures, Basil King, with 12 pencil drawings by Basil King, London: Stop Press, 1997.   For information contact Malcolm Wiseman, 263 Nether Street, Finchley, London N3 1PD