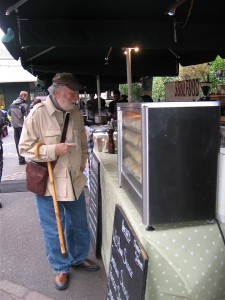 October 9:    Images from our first day
London – A rest before readings, talks, and screening of "Basil King:MIRAGE" to come in Canterbury and at Kent University on the 10th and 11th.    A rest we thought, in a modest chain hotel on Bankside.  Turned out we were just down the street from Southwark Cathedral, just down the riverbank from Tate Modern, just around the corner from the reconstructed Globe.  The hotel was attached at the back to the Anchor, one of the oldest pubs in London.
We did it all.
Bankside was horrendous slums when Baz was a boy. Warehouses, rooming houses, dens too rank for his mother to ever be tempted to cross London Bridge, though she often took him for long walks down to the Embankment from their home off Commercial Street in the East End.
Gem of the area now: Borough Market. It has been in operation since before the Norman Conquest, really. Today a major destination, with both Victorian, 20th and 21st century updates. My photos aren't for vegetarians.  Baz loved the boar sausage!