Our friend Tony Landreau, Anthony N. Landreau, happily glossed our rugs when he visited.  When his bag contained 3 gallons of wine and clean socks.   When his bag was a proper suitcase holding notebooks, clean shirts, and suits.   Rug scholar, weaver, photographer, painter, always a teacher but offhandedly. You like this? Well… a Tony-drawl.
Baz and I bought a rug in 1968 – it was so cheap because  it was flawed, I thought. I showed Tony  mistakes in the pattern. Cheap because it fell off a truck, he said.  It was a remarkably good piece.  He showed me the back and the thickness of the pile. That was the first time I heard about perfection and hubris – the need to honor Allah by including an error.
After my mother died six or eight ancient rugs came to my house. Some had come to her house when her mother died.  They'd been bought old, by my grandparents, they'd been let lie dirty and patient.  The long one in our big kitchen-eating room is in the path to the doorway to the backyard.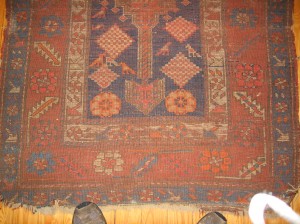 She made this for herself, for her own home, Tony said. This wasn't done for commerce. It wasn't woven by a small boy, childhood stolen, ankle chained to work table, hunched over, hoping for dinner.  One of the rugs upstairs probably was.  It was bought in a department store in 1986. There must have been a dozen, all "hand woven" exactly alike except for colors.
In our kitchen rug all three tree of life medallions dance around the standard.  Off center animals some with two legs, some with three, show up on one end. Here and there flower tendrils take unexpected angles. She knew her tradition, Tony said, she was improvising, scat singing. It all fits and it is only hers.
The rug more blue than red.   Tony said why but I don't remember.  I do see that she used small dyelots because the color varies horizontally.  For a commission, enough for the whole job would have been demanded or provided. It wouldn't have been accepted with these blue variations.
We don't honor it, or we do.  It is stepped on by everyone, especially the grand kids because their toy chest is in front of it. It will not outlast us as almost everything else in this house will.  Oh Keats, the poetry of this rug is ceasing daily.  But it sings. And the more the pattern is lost to use the more I am aware of the quality of her obligation.  For the rug to exist, she needed to make it. For it to be used, it goes away.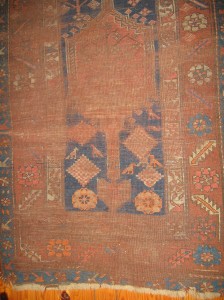 There's more about Tony Landreau in the Washington Post, after his death in 2009. But not his distinguishing drawl.
http://www.washingtonpost.com/wp-dyn/content/article/2009/06/08/AR2009060801513.html
(RIP dear friend.)